Thursday, March 25th, 2021
Fudbalski klub TSC danas je produžio saradnju sa golmanom Nenadom Filipovićem i krilnim napadačem Đurom Zecom na još dve godine, do 2023, a istovremeno su danas prve profesionalne ugovore u svojim karijerama potpisali omladinci Nemanja Krsmanović, levo krilo  i Petar Ratkov, napadač.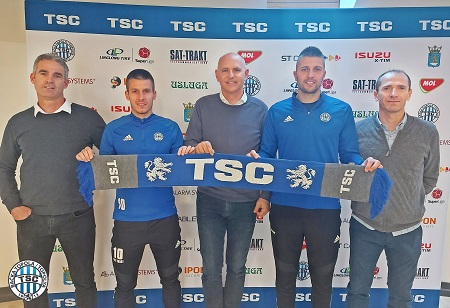 Sportski direktor Mirko Jovanović je izrazio veliko zadovoljstvo što je klub posle produžetka ugovora sa napadačem Nenadom Lukićem uspeo da se dogovori ostvari sa još dvojicom standardnih i ključnih igrača, Filipovićem i Zecom.
"Nastavili smo praksu da zadržimo naše igrače koji su pružili maksimum i dali puno klubu , jer želimo da uvek imamo ključne igrače i okosnicu tima koja je dugo na okupu. To je praksa TSC-a od početka nekog našeg uspona u protekle četiri sezone. Ne želimo da mnogo menjamo ekipu. Želimo da se zajedno razvijamo i rastemo", rekao je Jovanović i dodao da su ugovori produženi na dve godine, a u toku trajanja tih ugovora ostaje mogućnost da se saradnja nastavi dokle god je to obostrana želja.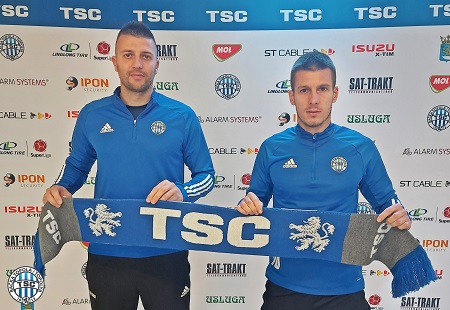 Takođe, danas su svoje prve profesionalne ugovore popisala i dvojica mladih igrača Nemanja Krsmanović, levo krilo, i Petar Ratkov, napadač. Prema rečima Mirka Jovanovića, oni su svojim zalaganjem, trudom, radom i igrama, te ugovore zaslužili.
"Potpisivanje ugovora sa omladincima će ostati praksa u TSC-u, jer svo ulaganje u Akademiju i fudbalsku infrastrukturu koju klub ima, upravo se i događa zbog toga da bi naši igrači imali  uslove da se razvijaju i jednog dana zaigraju za prvi tim. To je naš cilj, da afirmišemo mlade igrače koji će postati okosnica prvog tima. Ponosni smo na njih i želimo da oni budu primer drugim mlađim igračima, da znaju da dobrim radom, zalaganjem i igrom imaju otvorena vrata za potpisivanje profesionalnih ugovora i za priključivanje prvom timu", kazao je Jovanović.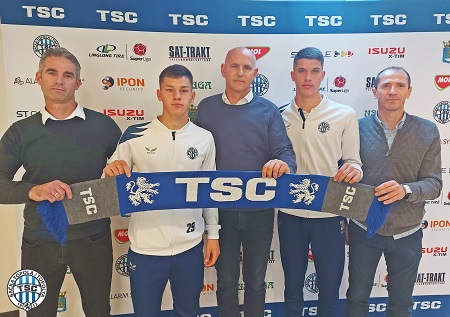 Golman Nenad Filipović je iskoristio priliku da zahvali rukovodstvu kluba, na čelu sa predsednikom kluba Janošem Žemberijem, što su mu omogućili da uživa u svojoj karijeri i dodao: "Biti u jednom ovakvom klubu i zaraditi poštovanje produžetkom ugovora do juna 2023. godine je velika satisfakcija i sreća za mene. Klub ide pravim stopama i igrače nagrađuje po učinku, tako da na meni ostaje da pružam još bolje partije i da pomognem TSC-u da ide ka vrhu tabele. Nadam se da ćemo u narednom periodu doneti Evropu".
Napadač Đuro Zec je zahvalio klubu i stručnom štabu što su mu ukazali poverenje da i naredne dve godine nosi dres TSC-a. "Presrećan sam i daću sve od sebe da u narednom periodu ostvarimo što bolje rezultate i da budemo još bolji na terenu. Klubom sam veoma zadovoljan, kao i saigračima".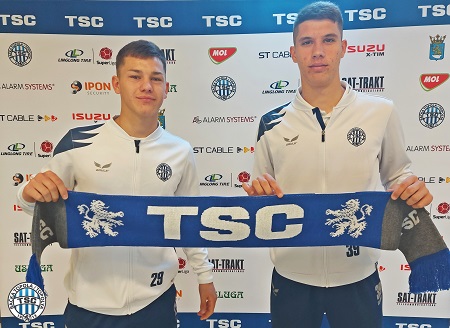 Omladinac Nemanja Krsmanović je zahvalio upravi na šansi koja mu je pružena i naglasio da se oseća odlično zbog potpisivanja prvog profesionalnog ugovora. "Na meni je samo da  nastavim da se trudim i da radim", rekao je Krsmanović.
Petar Ratkov je istakao da je osećaj predivan. "Već neko vreme sam sa prvim timom i želim da nastavim da opravdavam poverenje koje sam od šefa dobio", kazao je mladi napadač Ratkov.