Bojan Popović, director of the London based Mineco Limited in CorD Magazin https://cordmagazine.com/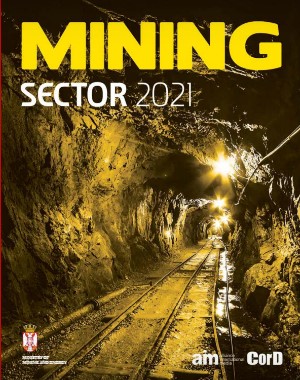 Today, when one reads or hears 'base metals' and 'Serbia' in one sentence, the usual association is in relation to the many articles one can read about encouraging drilling results announced by a Canadian, Australian or British junior exploration company. For the most part, these are intended to capture the imagination of a far-away prospective investor or provide a degree of comfort to those that have already taken the plunge to fund the promise of future riches. Alternatively, one thinks of the large, world class copper mine in Bor established many decades ago, or even the 'Jadar' lithium project – both of strategic importance to the Serbian State in their own right.
However, amongst all the noise, one privately owned company had recognised the mining potentials in the region and invested its own resources into mining first, geological exploration second. Today, the Mineco Group is synonymous with lead and zinc mining in Serbia and Bosnia-Herzegovina, as presented by Bojan Popović, director of the London based Mineco Limited.
Q:How do you see Mineco; what is its past?
A:Mineco started out nearly twenty years ago when experienced physical traders in base metals and concentrates formed their own trading business. Capitalising on a wealth of knowledge of the international metals markets, Mineco quickly achieved successes in delivering solutions to producing mines, other trading companies and end-users by facilitating sales, purchases and deliveries.
The opportunity for diversification into mining presented itself in 2004 when the bankrupt lead and zinc mine "Rudnik" near Gornji Milanovac was offered for privatisation. At a time when the mining industry in ex-Yugoslavia was struggling, the assessment was reached that Mineco possessed both the resources and capability to restart the mine, modernise and run it as a successful business. Sometime later, the "Rudnik" case study was singled out as an example of an excellent privatisation in the mining sector not just for its commercial success, but also due to creation of additional employment and improvements in safety records and environmental protection. By 2009, two more inactive lead and zinc mines were acquired on both sides of the Drina river; the first near Srebrenica, damaged heavily during the Bosnian civil war, and the second near Ljubovija where previously the tailings dam had burst and the underground horizons flooded. Both mines received substantial funding from the Group to repair, replace, modernise and re-employ workers that head previously left. Water management systems were redesigned and constructed to ensure the mines' tailings facilities would not endanger the Drina river and basin. By 2010, Mineco successfully transformed itself from a pure trading company into a group that acquires, develops, and operates mines in this region.
Q:Where is Mineco today? How has it evolved?
A:The accomplishments with those three mines had not gone unnoticed. Aside from creating new employment, each of them became the principal generator of economic prosperity within the respective municipalities. With CSR principles being embraced from the outset, the goodwill that was generated had equipped Mineco well to pursue additional capital projects and investments. Whereas the first three mines were 'brownfield' class, in 2010 and 2012 Mineco embarked on two 'greenfield' mining projects. The lead and zinc mine "Bosil-Metal" near Bosilegrad in southern Serbia and "Geomet" lead mine in Olovo in BiH both required a full range of works from permitting, geological exploration, planning to construction. Bosil-Metal is currently operating a pilot processing plant since 2017 for gathering of data and experience for the design of the commercial size plant. Meanwhile, a brand new gravitational separation plant was built in Olovo, with first tonnages of concentrates being delivered in 2019.
The increased mining activity led to more geological explorations being conducted, especially in exploration projects such as the "Čelebići" area of eastern Bosnia, where we have submitted a verified mineral reserves statement, obtained the exploitation concession and are now planning the construction of the sixth mine. Our group companies, in Serbia and BiH are licenced to conduct exploration drilling campaigns using own drilling rigs.
Further afield, Mineco has acquired and developed through large capital investments a lead recycling plant in the Moscow region. We are presently the largest producers of refined lead and lead alloys in Russia.
Q:  Where is Mineco heading? What is planned for the future?
A:We have recently announced that our long-term plans in rebuilding and opening the old "Suva Ruda" lead & zinc mine in Raška municipality is gaining pace. Since 2016 when the legal due diligence was performed, our local company "Vavrina doo" has purchased all land plots that comprise the land area of the old mine and tailings facility as the highest bidder in public auctions and applied for the exploration rights. Once the required licencing and permitting is issued by the Serbian Ministry of Mining & Energy, Mineco will be on the fast track to perform all required steps to ultimately commission, alone or with partners, another operating mine in Serbia. Our capability to carry out this process will generate much needed workplaces and investments in Raška region, as well as regular mining royalties and other tax revenues for the State and local authority. On reflection, the Mineco Group has thus far invested and re-invested close to $200 million into its mining assets.
In 2021 we will continue working towards upgrading the Bosil-Metal mine, optimising the Geomet mine, while planning for the construction of the mines at Čelebići and in Raška.
Q:The Serbian Ministry of Mining and Energy is planning to bring into Parliament a new Mining Law. Has Mineco participated in the public consultation?
A:As previously when the current Mining Law was drafted, we have taken part again in voicing our views and recommendations in relation to the drafting of the new Law under Minister Mihajlović. On this occasion the chosen forum was GRAS, which had put forward a lengthy list of amendments to the Ministry's first draft. Successive Serbian governments have stated that they see the mining industry as a prominent segment of the economy contributing an increasing percentage in the GDP. The FDI statistics illustrate that the current mining law has already achieved this year on year, with more foreign junior exploration companies than ever being present in Serbia. Deservedly, it has been praised as one of the best mining laws in the world making Serbia, a candidate for EU membership, a favourite destination for miners and explorers. We think it is important that the new law continues to promote this industry internationally, not at the expense to its people but for their benefit, observing the sentiments of the ever more observant public. Lawmakers should ensure that certain provisions of the new law are not in conflict with provisions and principles of other existing laws to ensure clarity.